By Joseph Mathieu
Photos by Chris Roussakis
During her second year at Carleton University in Engineering Physics, Stephanie Ellis began to lose her sight and went completely blind. Although she slowly got her vision back, no one was ever able to figure out what had happened.
Now a fourth-year student who has switched into Interdisciplinary Science with a minor in Physics, When she became anxious something might happen again as she began looking for work last year, she turned to Carleton University Accessible Experiential Learning (CUAEL) which connected her to the Student Experience Office (SEO) where she now works.
"When you're skating, the most important thing is bite angle," Maxwell says.
"I have loved every minute of it," she said. "Now I embrace everything about myself, including my disability. I understand that it does not change how well I can do my job, or how my co-workers will see me. It's just another aspect of who I am."
On March 25, 2019, Ellis spoke about her experience at a showcase and networking event highlighting the success of the one-year-old CUAEL project.
The forum celebrated the project's creation of accessible experiential learning opportunities for students with disabilities since last April.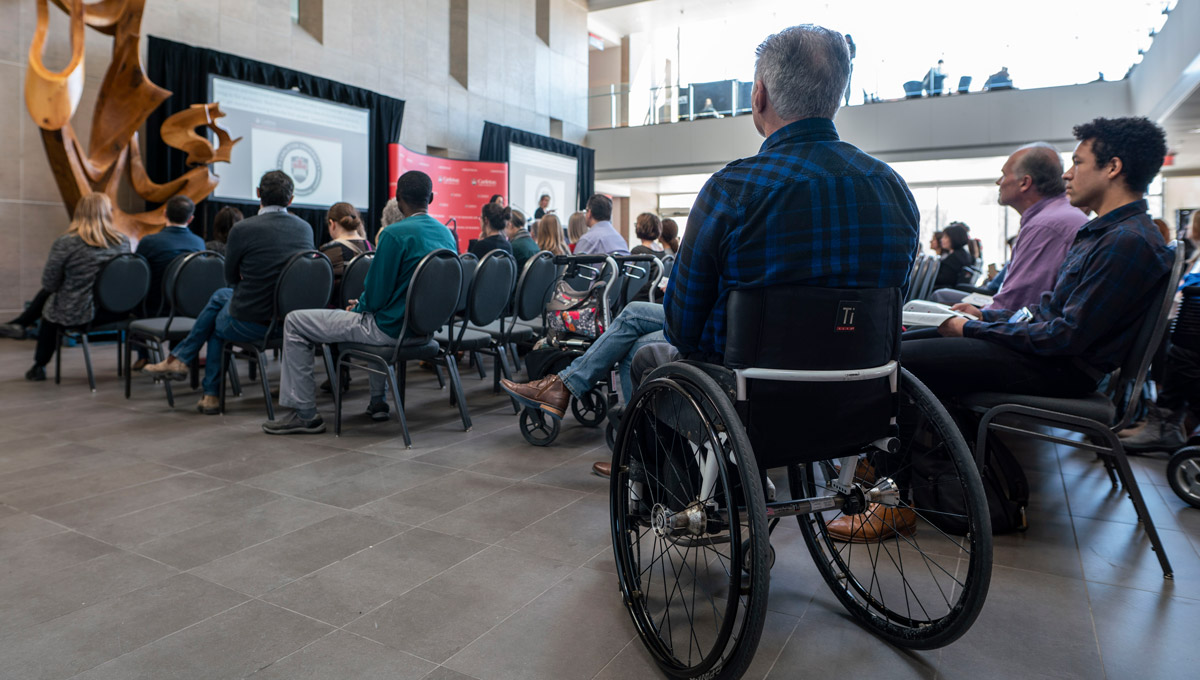 A Great Attitude and a Willingness to Work
Originally working at the SEO's front desk, Ellis joined its Campus to Community program last fall. The program develops volunteer opportunities for students through various charities and non-profit organizations.
"Working with the Campus to Community program has been a very proud moment for me since I have loved the program since I started at Carleton," said Ellis. "I am and always have been a strong believer that if I have the ability to help, no matter how small the impact may be, it is worth it and important to do so."
Jeremy Brzozowski, manager of the Student Experience and Student Life offices — which took 17 CUAEL placements since last summer — spoke about his experience from the employer's side of things.
"When you're skating, the most important thing is bite angle," Maxwell says.
He hired students who had at least three things: passion for the school, a great attitude and a willingness to work in a team.
He applauded CUAEL's support in helping him create best practices for an accessible workplace. Resources included an employer onboarding checklist and an informative list of frequently asked questions that help employers support employees of varying abilities.
When it launched, CUAEL aimed to connect 300 students with disabilities to experiential learning opportunities. Just shy of a year later, 150 student placements have been fulfilled through partnerships with more than 45 employers.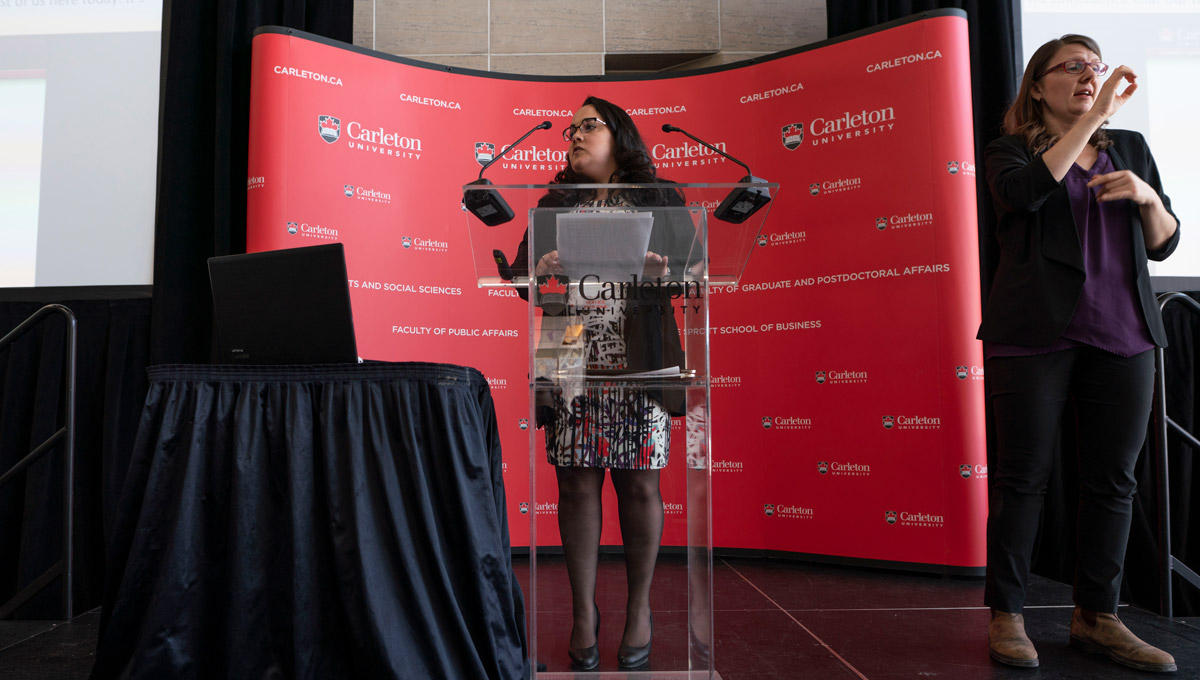 Experiential Learning Opportunities Part of a Deep Culture of Accessibility
These employer champions include the National Association for Education of Disabled Students (NEADS), the Elizabeth Fry Society of Ottawa and the University of Ottawa Medical Associates, among others. Within the Carleton community, CUAEL has had successful relationships with the Sprott School of Business, the Department of Civil and Environmental Engineering, the Carleton Centre for Community Innovation, and Carleton Athletics, among others.
There are approximately 3,000 students with disabilities currently registered at Carleton and they have a graduation rate that is on par with the rest of the student population. Roughly 90 per cent of students registered in CUAEL have invisible disabilities.
"When you're skating, the most important thing is bite angle," Maxwell says.
A collaboration between Carleton's Research, Education, Accessibility and Design (READ) Initiative office and the Paul Menton Centre for Students with Disabilities, the CUAEL project is overseen by Career Services.
CUAEL received an $800,000 grant from the Ontario Career Ready Fund to subsidize part-time and full-time experiential learning opportunities. The project is aiming to fulfill another 150 student placements for its May to August work term.
Suzanne Blanchard, vice-president (Students and Enrolment) spoke at the event as a Carleton administrator and the first Employer Champion on campus.
"At Carleton, we remain committed to building on our status as Canada's most accessible university," she said. "A deep culture of accessibility is part of everything that we do."
Wednesday, March 27, 2019 in Accessibility, Experiential Learning, Feature Stories
Share: Twitter, Facebook