The Faculty of Public Affairs is celebrating the announcement that two of our PhD students have won Vanier Awards.
Legal Studies student Jean Ketterling, and Public Policy student Antoine Genest-Gregoire, both doctoral students, have won 2020 Vanier Canada Graduate Scholarships. These extremely prestigious scholarships are awarded to Canadian PhD students who conduct exceptional research. They are valued at $50,000 per year for three years during their doctoral studies.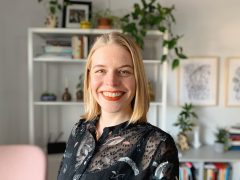 Ketterling's PhD research looks at the role of video games in our intimate and erotic lives.
She explains: "By focusing on the emotional experiences of these games, I'm hoping to contribute to the effort to understand how our sexual and intimate lives are impacted by technology by building analytic tools for making sense of video games as sites of pleasure."
Says Ketterling: "We're also seeing examples of video games being used to maintain intimate connections with families, friends and partners. One example is how people are using video games such as Minecraft and Animal Crossing to gather, spend time together, or to go on dates during the COVID-19 pandemic. But there is still a lot of fear or ambivalence about the importance of video games in our culture – and in our intimate lives in particular – so I hope my research contributes to a better understanding of this phenomenon.
Ketterling came to the Department of Law and Legal Studies precisely to do graduate study with Dr. Ummni Khan, first as an MA student, and now for her PhD, and to work with the scholarly Legal Studies community working at the intersection of sexuality, law and culture.
Genest-Gregoire's research focuses on how elements of family taxation might affect gender equality.
Canada's tax system partially considers family income, notably through transfers to families (such as the Canada Child Benefit or the GST tax credit). These are reduced as family income rises, and income-splitting measures are used, which allow high earning individuals to transfer some of their income and tax burden to their spouse.
"My research project will look specifically at these components of the tax system and assess whether they pose a risk to gender equality by making women more vulnerable economically, through lower savings, weaker workforce attachment and barriers to family reformation," says Genest-Gregoire.
He continues: "Gaps between men and women are amongst the leading drivers of inequality around the world. The way we organize the distribution of salaried and domestic work has a lot to do with those gender inequalities. The tax system interacts with those household and workplace dynamics and can thus help us reduce the gap between men and women."
He hopes his research might help influence changes in the way tax credits and child benefits are assessed to reduce their effect on gender inequality. "Hopefully some changes to these could be included in future budgets."
Genest-Gregoire is supervised by Dr. Frances Woolley. "Professor Woolley is a recognized expert on questions of gender in economics. She has helped me write compelling arguments in favour of my candidacy and research project. She was particularly keen to make me adopt the point of view of evaluators and pushed me to write convincingly for people who know nothing about my subject."
Thursday, June 25, 2020 in General, Law and Legal Studies, News, Public Policy and Administration
Share: Twitter, Facebook