The following piece was written by Frohan Foroutan, who is graduating with her Master's in Economics from Carleton in June 2021.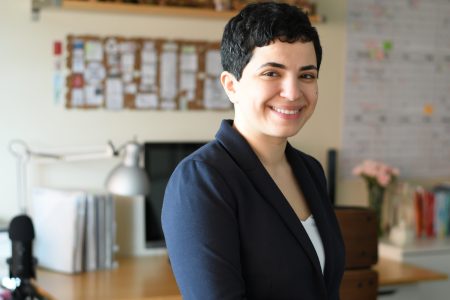 I have always been interested in people and in their relationships. In a word, people are "fascinating." People are constantly making decisions about things and responding to different incentives. And this is at the heart of the field of economics. As Alfred Marshall, the famous 19th century English economist once observed, economics is "a study of mankind in the ordinary business of life; it examines that part of individual and social action which is most closely connected with the attainment, and with the use of the material requisites of well-being."
This is fun stuff for a student, and it also allows me to indulge my life-long love of logical reasoning and mathematics. Talking of economics, logical reasoning and mathematics, it was my mentor, Professor Simon Power, who first encouraged me to apply to graduate school for an MA in Economics, and it was also he who specifically suggested that I should apply to Carleton in order to be able to take the new collaborative Specialization in Data Science, which is an option, because he felt that it would allow me to indulge my full range of academic passions.
And, yes, things have really worked out for me. In addition to my core studies in economics, I have had the great experience of working with a diverse range of peers and faculty from across Carleton, who are all engaged in the study of data science. It really humbles you and teaches you the importance of communication, patience and group work to operate in a multidisciplinary environment where you want to make an impact. It also teaches you that a field like economics that has a direct impact on everybody's well-being needs more diversity of talents, opinions and all kind of experiences, meaning that there is a huge opportunity to contribute to the field in a meaningful and positive way.
Now that I am preparing for my transition into the job market, I can really begin to see the importance of the transferable skills that I have acquired along the way. In studying economics, you gain a rare combination of skills: You learn to read and write elegant mathematical models, how to explain complex and abstract concepts in words, how to clean statistical data, how to code and how to write and present your analyses, all while thinking about the underlying history in an attempt to understand how decisions or policies will change the economic realities of everyone, or maybe just yourself. In fact, studying economics opens the door to so many career possibilities in both the public and the private sector.
Finally, on a more personal note, I am realizing that the Carleton community has become a huge part of my Canadian life. I have come to know it well and love it. When I leave, I will miss it deeply.
Monday, June 21, 2021 in Department of Economics, News
Share: Twitter, Facebook