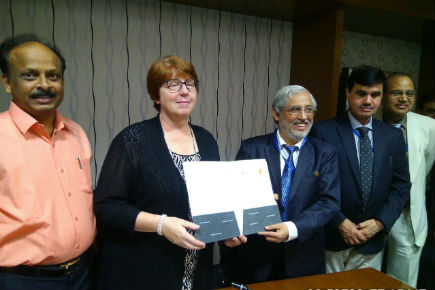 Carleton University and the All India Council for Technical Education (AICTE) have signed a memorandum of understanding (MOU) to strengthen international collaboration through a startup exchange and innovation ecosystem.
Under the MOU, the AICTE's Start-up Policy Unit and Carleton's Canada-India Centre for Excellence (CICE) will work closely and share knowledge about startups and innovation best practices. They will also design collaborative programs in these areas.
Carleton's Pauline Rankin, associate vice-president (Research and International) and M.P. Poonia, vice-chairman of AICTE, signed the MOU on Nov. 15, 2017.
Rankin announced that the best tech startups launched by Indian women will get a chance to participate in the Canadian Startup Ecosystem exchange program in August 2018. She added that a new Lead to Win India portal will enable Indian startups to explore business and incubation opportunities in Canada.
Anil Sahasrabudhe, chairman of AICTE, emphasised the need to make collaborations fruitful with result-oriented programs that enable tech startups to think globally and connect to global markets, and build healthier bilateral relations and greater knowledge flow between the countries.
The Startup Policy Unit, in accordance with India's startup India action plan, promotes and supports student-driven innovations and startups in India's 10,000 AICTE-approved technical institutions. The unit encourages collaboration with international pre-incubation and acceleration centres in technically advanced countries such as South Korea and Canada.