Past Event! Note: this event has already taken place.
Recorded – Distinguished Speaker Series – The Prospect of Generative AI
October 18, 2023 at 1:30 PM to 3:00 PM
Recorded – CUIDS Distinguished Speaker Series
The Prospect of Generative AI
Muhammad Abdul-Mageed, University of British Columbia (UBC)
In the evolving landscape of artificial intelligence, generative models are revolutionizing our interface with computational systems and reshaping societal paradigms. These transformative shifts emerge from the profound capacity of sophisticated algorithms to assimilate multimodal data, encompassing text, voice, and imagery. This talk sketches the core methodologies propelling this groundbreaking progress, drawing illustrative examples from speech and language processing and computer vision. It also traverses the outcomes of a host of transnational academic partnerships, highlighting impactful intersections of AI with archival sciences and cultural preservation, education, and health.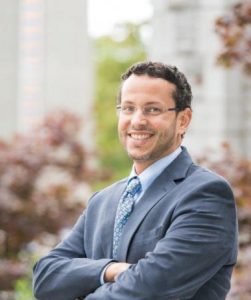 Muhammad Abdul-Mageed is an Associate Professor and Canada Research Chair in natural language processing and machine learning at the University of British Columbia (UBC) and a Visiting Associate Professor at MBZUAI. His research focuses on large language models, cross-modal socio-pragmatics, and deep representation learning. This program is driven by a goal to innovate more equitable, efficient, and interactive machines for improved human health, safer social networking, and reduced information overload. Dr. Abdul-Mageed has published more than 120 articles in peer-reviewed venues, and his group has won several international competitions. He is a founding steering member of UBC's Center for Artificial Intelligence and Language Sciences Institute, Director of the UBC Deep Learning and NLP Group, Co-Director of the I Trust AI Partnership, and Co-Lead of the Ensuring Full Literacy Partnership. Dr. Abdul-Mageed's research has been supported by Amazon, AMD, CFI, Google, NSERC, and SSHRC.
Muhammad Abdul-Mageed – Publications
Seminar Moderator:
Associate Professor, Critical Media and Big Data
Cross Appointed to the MA in Digital Humanities
Faculty of the Institute for Data Science