Save the date!
The Living Wage for Families Campaign has received more than three dozen requests from communities around BC (and across western Canada) asking how the local living wage can be calculated. To help the living wage movement grow, you are invited to join us for a free one-hour webinar on how the Living Wage for Families calculates the annual living wage, and to learn how you can adopt this methodology to use in your own community.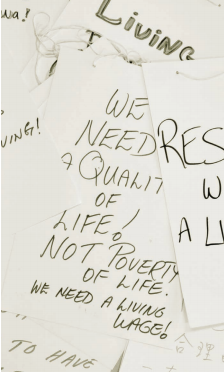 Join us Tuesday, September 9th, from 12 PM to 1 PM PDT.

Iglika Ivanova of the Canadian Centre for Policy Alternatives (BC Office) will walk through the data required to develop a local table of family expenses and show how to use the living wage calculation spreadsheet to calculate the living wage in your community; Iglika does the annual calculation for the Metro Vancouver living wage.
Adrienne Montani of First Call: BC Child and Youth Advocacy Coalition and Catherine Ludgate of the Living Wage for Families Campaign (employer recognition) will provide a history of the Campaign and some suggestions for how to find a local host to make the annual calculations; First Call is the host for the Living Wage for Families Campaign.
Register for the webinar here. We'll send information on how to connect to the webinar closer to the dates.
If you have any questions, please contact Catherine Ludgate at info@livingwageforfamilies.ca.
Tuesday, September 9, 2014 – 12:00pm to 1:00pm PDT
Source: https://www.policyalternatives.ca/offices/bc/events/calculating-living-wage-webinar-local-communities#sthash.XxPTjerj.dpuf