By Tyrone Burke
Photos by Ainslie Coghill
It sits on more than six acres of prime real estate just minutes from downtown, but the Booth Street complex is vacant – for now.
The red brick buildings were once home to the Department of Mines and Energy – a predecessor to Natural Resources Canada, but the site has been owned by the federal government's Canada Lands Corporation since 2015. The Crown corporation that specializes in real estate is planning to redevelop it, preserving several heritage buildings while razing others to make way for modern buildings and public spaces.
It's a mix of styles and uses that draws inspiration from similar projects like Toronto's Distillery District, which has become a destination for dining and drinking, not to mention a vibrant festival space.
But this type of redevelopment needs to be in harmony with its surroundings, and to get things right, the community needs to be consulted
By staging the Designing Communities Workshop, Carleton University's Mariana Esponda is helping do exactly that.
The associate professor in Carleton's Azrieli School of Architecture and Urbanism worked with graduate and undergraduate architecture students and the sustainability-focused charitable organization No. 9 to stage a week-long workshop for Grade 7 and 8 students from Hopewell Avenue Public School.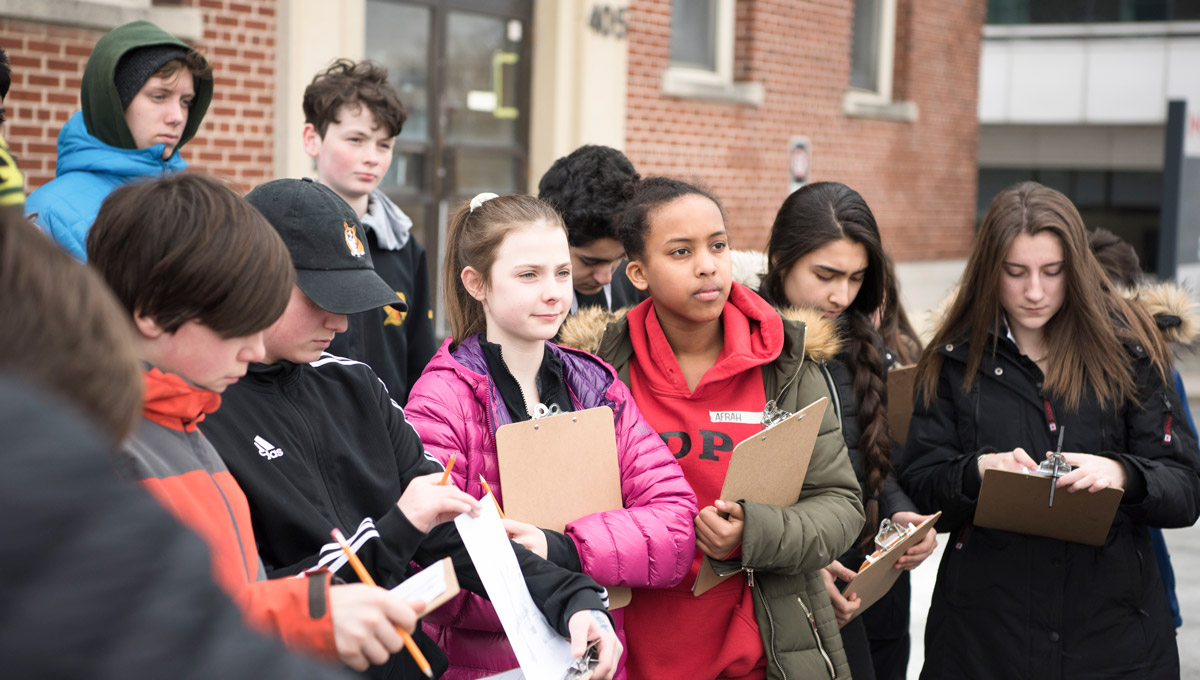 Using Architecture to Envisioning a Sustainable Future
After a field trip to the Booth Street complex for a guided walkabout, the students were asked to envision a sustainable future for the site, and propose public spaces that pay homage to mining research that took place there during the 20th century, as well as streets friendly to pedestrians and cyclists.
On April 23, 2019, they presented their vision at Carleton at an event attended by key stakeholders in the Booth Street Sites redevelopment, including City of Ottawa heritage planners and the Canada Lands Corporation.
"When we talk about sustainability, we should talk about triple bottom line," said Andrew Davies of No.9.
"Economic, environmental and social. So students took that lens. On day one, they did a walk around, then came back and brainstormed about the ideas we talked about — what kind of feeling would be in this space."
For Grade 8 student Elena Dosen, the workshop opened a world of possibilities.
"We used the Booth Street heritage complex as a blank canvas, and brainstormed ideas of what a sustainable community would include, and No.9 helped us bring our ideas to life as part of a scale model," Dosen says.
"It opened my imagination and made me think about what happens beyond the walls of my building. Before this, I thought architecture was just about the physical designs of buildings, but it goes way beyond just the walls of buildings – how they use energy, curvature, trigonometry, green space, materials, aesthetics. and making the building sustainable."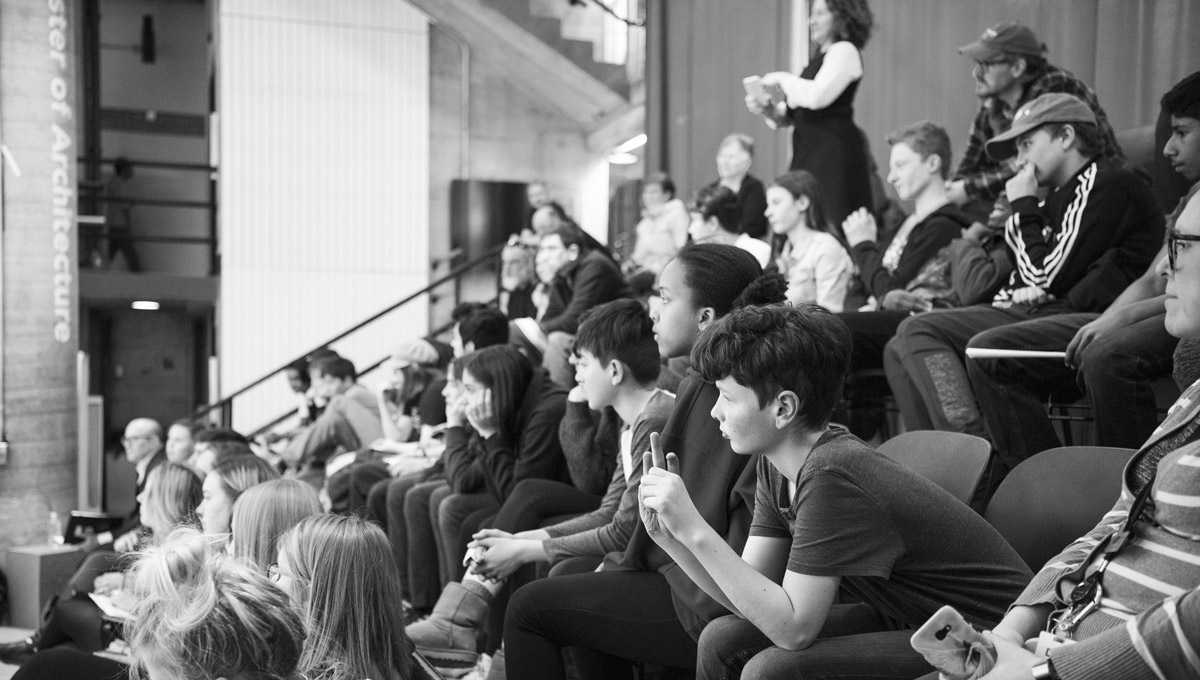 Connecting Younger Generations with Experts
For Esponda, the exchange of knowledge between the Hopewell students and her own students was one of the workshop's major benefits.
"It is really important to connect younger generations with experts and that everybody is open to listening to different options and to seeing through others' eyes – then conservation projects can be very rich. Most of the students are not going to be architects, but they will be users of the architecture."
Consultations can help shape the community and identify what is most important to people. And it's not always obvious.
"The stakeholders have to listen to what the community wants," Esponda says.
"There is a smokestack at the site that didn't have heritage designation and was planned to be demolished, but the community said that's a landmark for us, we want it to be designated and respected. That's a very good example how the stakeholders can listen to the community, and then decide."
---
Tuesday, April 23, 2019 in Architecture, Experiential Learning, Feature Stories, Youth Outreach
Share: Twitter, Facebook