On March 6, 2018 seven faculty members were presented with a 2017 Faculty Graduate Mentoring Award, including Associate Professor of History, Susan Whitney. These awards are intended to recognize faculty who render exceptional service to graduate students as supervisors and research mentors. The effect of such faculty on the careers of students is frequently transformational. The awards are sponsored by the Faculty of Graduate and Postdoctoral Affairs and the Office of the Vice-President (Research and International).
Below are some highlights from Professor Whitney's nomination letters: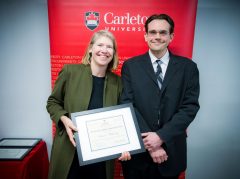 Susan Whitney (History)
Professor Whitney has spent countless hours discussing my research with me…I am amazed by her generosity and that she somehow always manages to make time for me no matter how busy she might be.
Susan's encouragement and guidance were absolutely essential to me during the completion of my degree.
She has an encyclopedic knowledge of the literatures of modern history and has taught me how to bring them to bear on my own work. She inspires me to form my own academic perspective while holding me to the highest scholarly standards.
The successful completion of my PhD dissertation – accepted without need for revisions – was largely due to Dr. Whitney's critical eye and intellectual curiosity.
I not only look up to her as a gifted historian and mentor, her commitment to her students truly sets her apart.
Not only does she help me with my studies, providing significant and helpful comments for me to improve my work, but she has taken the time to get to know me, my family, and my challenges so she is uniquely capable of supporting me….I couldn't have asked for a better mentor and role model.
The full list of 2017 winners along quotes taken from their nominators' letters can be found online.