By Dan Rubinstein
Photos by Chris Roussakis
Carleton is a key part of Ottawa's connected and autonomous vehicle (CAV) community, and on May 17, 2019 a large contingent of faculty and graduate students from the university helped launch the Ottawa L5 CAV testing facilities — the first integrated CAV test environment of its kind in North America.
"We are proud to partner with government, the private sector and the local post-secondary ecosystem to grow an industry that's increasingly important for our Ottawa, Ontario and Canada," said Carleton President Benoit-Antoine Bacon, who attended a series of CAV demonstrations at the launch alongside senior government officials, including Ontario cabinet ministers Merrilee Fullerton, Lisa MacLeod and Todd Smith, as well as Ottawa Mayor Jim Watson.
"Our faculty members are doing critical research to advance this field and we are contributing to Ottawa's continued evolution into a leading technology hub, which is good not only for economic development, but also quality of life, sustainability and so much more," said Bacon.
"Our students are integral contributors to this research and in doing so are getting the experiential learning that will bring them incredible work opportunities. They are the leaders of the CAV sector of the future."
The Ottawa L5 CAV testing facilities, on the former Greenbelt Research Farm across from the Nepean Sportsplex on Woodroffe Avenue, are located on an 1,866-acre fenced and gated private site with 16 kilometres of paved roads and a control centre.
The private test track provides an ideal proving ground for safe and productive pre-commercial development, testing, validation and demonstration of CAV technologies that cannot be conducted safely on a city street.
Ottawa's public test track, located in Kanata North, the largest technology park in Canada, provides a CAV test environment on nine kilometres of public roads with connected live city infrastructure. Now that the fit-up of the Ottawa L5 is well underway, more than three dozen SMEs and firms are using the public and private tracks to support CAV research and development, commercialization and testing.
"As the minister responsible for post-secondary education in the province, I am very pleased to see Ottawa's four main post-secondary institutions directly engaged in and contributing to the advancement of CAV technologies," said Merrilee Fullerton, Ontario's minister of Training, Colleges and Universities and the MPP for Kanata-Carleton.
"We need to ensure that Ontario has a steady source of well-trained workers ready for the jobs of today and tomorrow, many of which will be in the auto sector. But the pace of change is so fast, we need to adapt to strengthen the competitiveness and innovation of Ontario's auto sector. A key component is to support innovation and CAV advancement to ensure that Ontario maintains its leadership role in the CAV sector.
"These local institutions are all contributing to the advancement of CAV technology," said Fullerton. "They are essential. Thank you for all you do."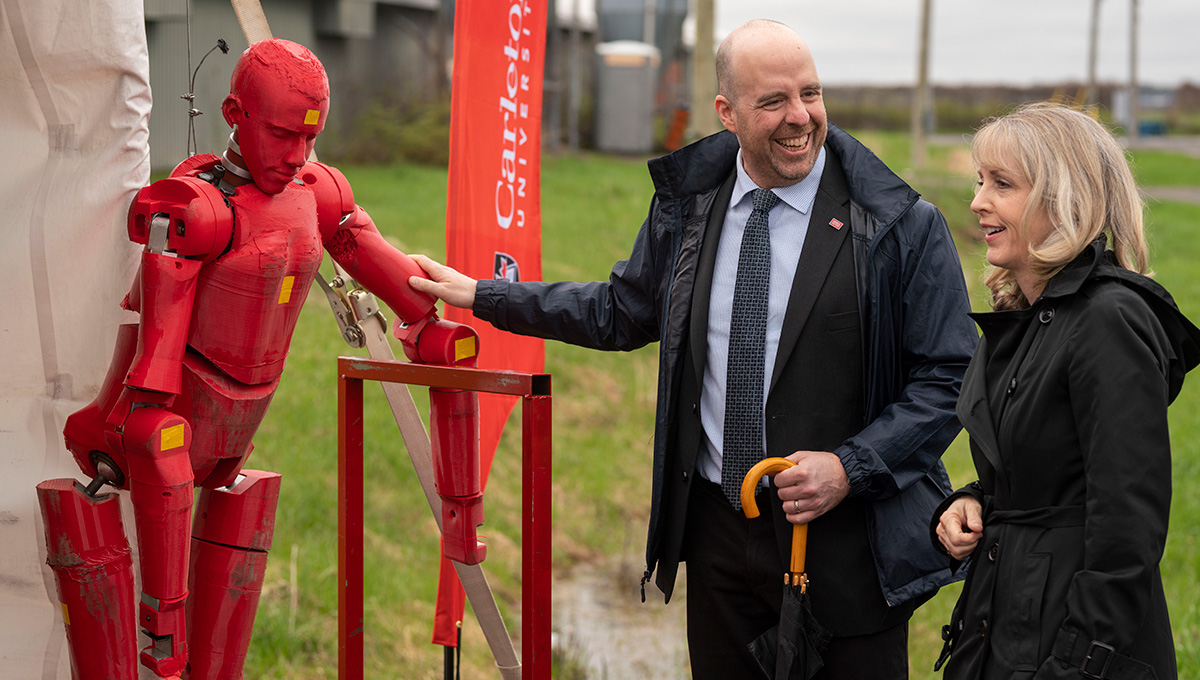 Increasing Automation and Safety
At the launch, Carleton demonstrated a variety of connected and autonomous systems and technologies developed by students and researchers within the Faculty of Engineering and Design, including novel uninhabited aerial vehicle (UAV) systems and applications such as long-distance drone control using Long-Term Evolution (LTE) wireless broadband, multi-sensor integration for enhanced autonomous control and data collection, and the use of drones as mobile base stations for wireless communications.
Carleton also featured its specialized crash test dummy project, along with one of its connected and autonomous vehicles and an array of related systems, such as sensor-based positioning and navigation, object tracking and localization for advanced assisted driving, and enhanced lane detection.
"Carleton's research in this area is focused not only on fully-autonomous vehicles, but also on increasing the automation level and safety of the vehicles in use until fully-autonomous vehicles are widely deployed," said Vice-President (Research and International), Rafik Goubran.
"Among the university's strengths are: active safety features to increase automation and reduce accidents and their impact on occupants, which from a technology perspective means sensors, real-time data analytics and software engineering; communications for connected cars, including 5G, cybersecurity and car-to-car or car-to-infrastructure communications; studying the impact of autonomous vehicles on society, especially in enabling older drivers and people with disabilities to drive, which provides autonomy and independence.
"Moreover," said Goubran, "Carleton's expertise in aerospace engineering and drones can benefit autonomous vehicles though obstacle detection, light materials and more."
The May 17 launch was hosted by Invest Ottawa, the lead economic development agency for knowledge-based industries in the city, and brought together roughly 300 stakeholders from industry, government, academia and the innovation community.
Attendees had the opportunity to ride in a BlackBerry QNX autonomous vehicle and an Aurrigo driverless shuttle, both in autonomous mode.
According to Invest Ottawa, the Ottawa L5 will catalyze Ottawa's contribution to the economy and Ontario's global CAV innovation leadership more broadly by promoting the growth of CAV firms and the development of new CAV solutions, firms, talent and high-value jobs.
"With a strong focus on safety, the Ottawa L5 will enable innovators, entrepreneurs, small- and medium-sized enterprises and multinationals to advance the safe development, validation and implementation of CAVs," Invest Ottawa said in a release. "It will help firms to address key CAV opportunities and challenges, including: CAV operations in inclement weather; safety and security; interoperability, data collection and analytics; and connectivity."
Currently valued at more than $11 million, the Ottawa L5 leverages $5 million in anchor provincial investment through Ontario's AV Innovation Network (AVIN) and more than $6 million in in-kind contributions from internationally recognized public and private partners including Accenture, Avanade, Blackberry QNX, the City of Ottawa, Ericsson, Juniper Networks, the National Capital Commission, Microsoft and Nokia.
"Technology has blurred the line between a car company and a tech company," said Todd Smith, Ontario's minister of Economic Development, Job Creation and Trade. "It's fundamentally changed what car producing regions need to do to succeed.
"Ontario is home to more than 200 companies developing connected and autonomous vehicle technologies — this gives us a major advantage when it comes to designing and building the next generation of vehicles. Through Driving Prosperity, our government's 10-year plan for the auto sector, we are supporting the auto industry by building a competitive business climate, driving innovation and developing industry talent.
"Every jurisdiction out there is vying for the same investment dollars," added Smith.
"The competition is intense. I have no doubt that Ontario can compete. That was shown by the demonstrations that I saw this morning. The Ottawa community is doing a great job. The whole ecosystem — government, the private sector and universities — is working together."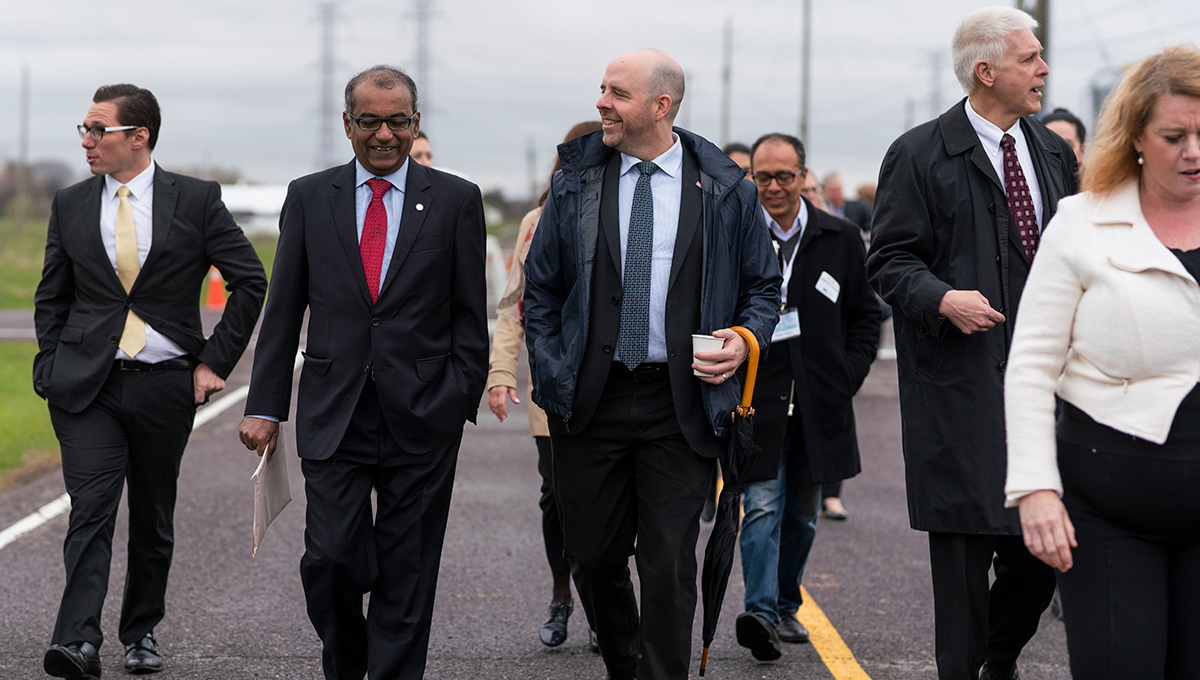 Validating Connected and Autonomous Vehicle Technologies in a Four-Season Climate
The Ottawa L5 CAV test facilities support V2X (Vehicle-to-Everything) testing and validation of CAV technologies in Ottawa's true four-season climate.
Building on Ottawa's internationally-recognized strengths in telecommunications and security, the Ottawa L5 is equipped with V2X connectivity including GPS, DSRC (Dedicated Short Range Communications), Wi-Fi, 4G/LTE and 5G infrastructure, making it the first integrated CAV test environment of its kind on the continent.
This enables R&D in communications and CAV operations in inclement weather, plus systems that pinpoint the location of hidden objects, cybersecurity, interoperability and use of CAV-generated data.
The Ottawa L5's platform collects data from multiple sources (sensors, cars, cameras and so forth) in real time and makes available proprietary tools for data analytics for a plethora of use cases. The Ottawa L5's platform facilitates interoperability between different applications and data silos by adopting standardized interfaces and communication protocols.
The name Ottawa L5 refers to the fact that today's CAVs are not fully autonomous. There are many levels of automation and intelligence integrated into vehicles. These are defined and classified from zero to five, with level five (L5) indicating full autonomy.
"This facility is fantastic news for everyone in Nepean," said Lisa MacLeod, Ontario's minister of Children, Community and Social Services, minister Responsible for Women's Issues, and MPP for Nepean. "Ottawa is quickly becoming a destination for forward-thinking businesses. Our government's continued support for economic innovation ensures we are creating the jobs of the future.
"It's always wonderful to come onto what used be an underutilized experimental farm and see what's possible, from a new film studio to precision agriculture research," said MacLeod. "We truly are, between us and Kanata, an innovation hub."
"The city recognizes the tremendous opportunity this presents to grow and diversify our local economy," said Mayor Jim Watson. "Not only are we demonstrating that Ottawa is a global leader in autonomous vehicles, we will also capitalize on the facility by testing new technologies that will help improve the lives of our residents."
"Invest Ottawa has established a strategic plan that focuses on three long-range market opportunities: smart government, smart health and smart cities, including connected and autonomous vehicles," said Michael Tremblay, president and CEO of Invest Ottawa. "The Ottawa L5 and our CAV programs showcase the very best of what Ottawa has to offer: R&D capability; system-wide collaboration among academia, government and industry, and a drive to do big things in world markets.
"The Ottawa L5 will help innovators and firms capitalize on this opportunity, reinforce our collective leadership in this field, and create long-term economic benefit for our region, Ontario and Canada more broadly."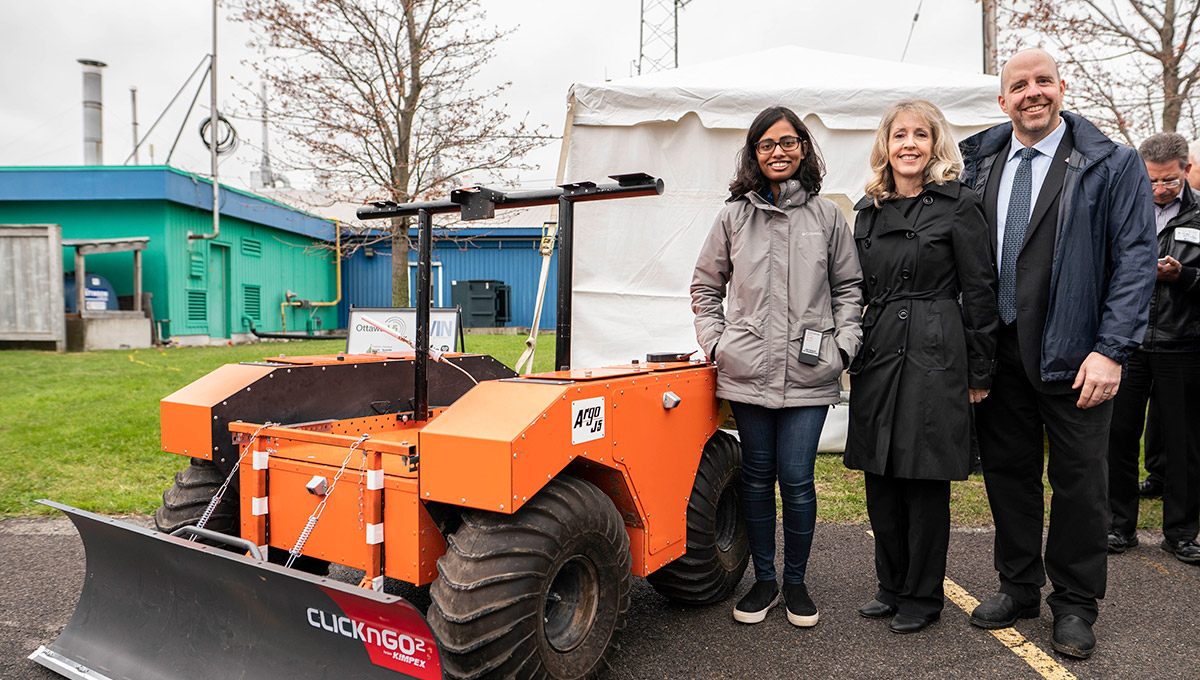 A Great Opportunity for Carleton
Among Carleton researchers at the launch were Mechanical and Aerospace Engineering's Jeremy Laliberté, whose research interests include the design of UAVs, and Information Technology Prof. Richard Yu, whose research includes improving the security and bandwidth of super-fast 5G wireless network, as well as Prof. Hanspeter Frei, who helms the university's crash test dummy project.
"We can do a lot of important testing here," Yu said of the Ottawa L5 facility. "When we develop new algorithms, it's difficult to test them on commercial roads, but we can work on security hacking and defence mechanism testing here.
"It's also a very good opportunity," added Yu, "for us to work with other players and industry partners.
"Currently, we're working to develop advanced security and privacy schemes that will enable smart, connected and autonomous vehicles to be safer and more secure," Yu explained in a recent article on the Carleton website.
"By focusing on solutions that account for system resource constraints, high vehicle mobility, and security and privacy requirements for intelligent transportation systems, we can ensure their widespread deployment becomes both practical and commercially viable."
While Yu continues to develop new methods to protect our roadways, he mentioned that a number of technical obstacles also need to be overcome before level five automation can be broadly achieved, such as ensuring CAV decision-making capabilities remain reliable regardless of weather and poor visibility.
"Canada's harsh winters present additional challenges that will have to be solved before full-scale autonomy can be implemented across all levels of infrastructure," he said.
"Additional research and development is needed to ensure that fully autonomous systems maintain their reliability in all-weather scenarios."
"We'll be using this facility for test flights," added Brendan Ooi, who is doing a master's degree under the supervision of Laliberté which is focused on the application of "computer vision" for UAVs that can help with guidance and navigation as it does for CAVs. "It's a big open area with no trees, and there's not enough space on campus.
"This is a very good opportunity for Carleton."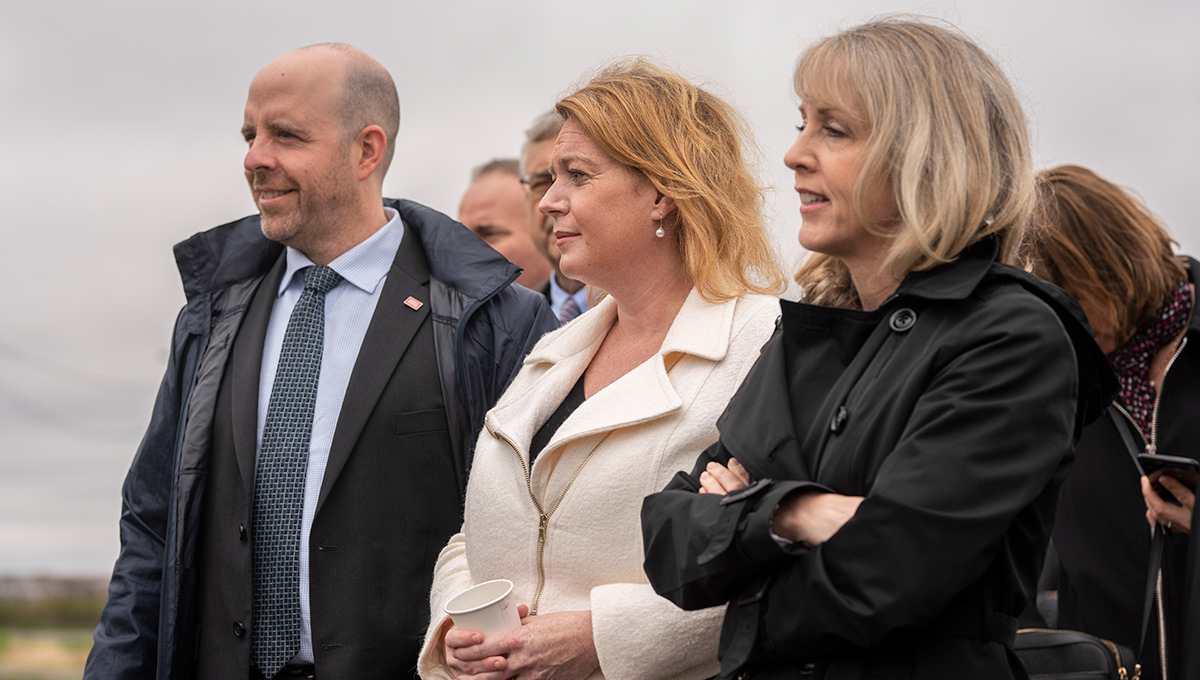 Monday, May 20, 2019 in 5G Wireless, Aerospace, Biomedical and Mechanical, Capstone Design Projects, Communications, Computer Systems, Electrical, Experiential Learning, Feature Stories, Industry Collaboration, Information Technology, Interdisciplinary, Internet of Things, Mechanical, Research
Share: Twitter, Facebook