Our Areas of Strength
The Department of Philosophy's track record of award-winning teaching and excellence in research helps shape its strong undergraduate program and its distinctive and robust two-year MA program.
A major focal point is interdisciplinary research and teaching in the following broad areas: moral, social, and political philosophy; philosophy of mind, cognitive science, language, and knowledge; and history of philosophy. These areas are exemplified in the Department's strong ties to the Ethics and Public Affairs (EPAF) PhD program and to the MA and PhD programs in the Department of Cognitive Science. For more on what makes our department special, click here for a Message from the Chair.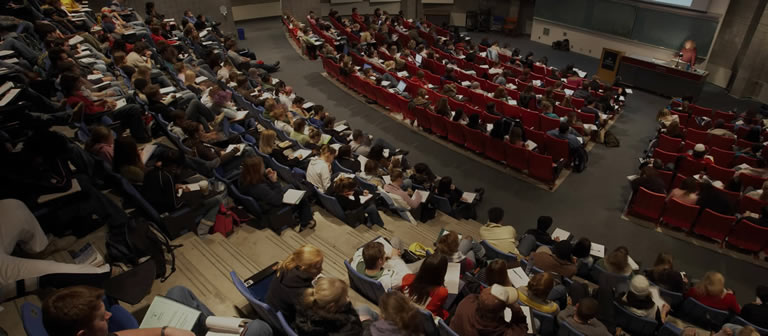 The Right Program For You
The variety of programs offered by the department lets you decide how much philosophy you'd like to study:
The B.A. Honours (4 years) or B.A. in Philosophy (3 years) programs are for you if want to focus your undergraduate studies in philosophy.
The concentration in philosophy, ethics and public affairs (PEPA) is for you if you want to combine the study of ethics and the analysis of social and public policies. Areas of policy include business, health care, biomedical technology, law, or government.
The B.A. Combined Honours program is for you if you wish to equally focus your studies in philosophy as well as another area, such as english, political science, or more. The other discipline must also offer a combined honours program.
The Minor in philosophy is for you if you want to supplement studies in a different area with some extra philosophy courses.
If you are planning to do graduate studies in philosophy you should enroll in the B.A. Honours program. Honours students have the opportunity to take fourth-year seminars in our award-winning faculty members' current areas of research.
Moderate Classes and Close Instruction: We Care For You
The Carleton Philosophy Department ensures high quality of education by providing opportunities in every year of your program for smaller-group learning and interaction with instructors:
In first year, you can take one of our special First Year Seminars, which are small courses with unique topics designed for those just starting university to receive close philosophical attention.
In second year you will take two dedicated second-year courses for Philosophy majors only, in addition to a foundational course on the classics of ancient Western philosophy. All have moderate class sizes, in which you can receive all the attention you need from your instructors.
Third-year courses are similarly of moderate size – no more large lectures!
In fourth-year seminars (typically of 10 to 15 students) you will be coached to develop successful research projects. You will be guided by the best: these instructors are highly regarded for their knowledge and research in Canada and internationally.
As a graduate, you will have gained unique intellectual flexibility and sophistication as well as highly developed writing, research, analytic and oral presentation skills that are applicable in many careers and professions.