By 2046, the number of Canadians over the age of 85 is projected to triple to 2.5 million. Addressing this demographic shift requires providing seniors with technologies adapted to meet their mobility limitations. Hand tremors, a main symptom of Parkinson's Disease, is among these challenges, hindering everyday tasks such as using a computer mouse.
Tackling this important accessibility problem, Chris Lee, a recent graduate of Carleton University designed a mouse-like pointing device that could help people with hand tremors regain their digital autonomy.
"Access to the internet and using a computer is a human right and integral to function in today's society," Lee says.
"For people with Parkinson's Disease and Essential Tremors, it provides invaluable resources and group supports that help them manage symptoms and maintain healthy lifestyle."

Computer Mouse for Hand Tremors Wins Gold
Lee created the mouse, coined the Shift, last year as part of his industrial design program and was recently awarded two prestigious awards for its design. Promising to provide an intuitive and accessible way for users with hand tremors to use a computer, the Shift received Gold in the student design category at the International Design Excellence Awards (IDEA) and a Notable Mention in the Core77 Awards
Lee is one of only a few Carleton industrial design students in history to have been awarded an IDEA and was among 28 people awarded gold this year. He accepted his award in New York City on Aug. 23 alongside renowned companies such as Logitech, HP, Shopify and Meta.
"I am still speechless," Lee says. "I'm honoured to be recognized alongside so many innovative designs."
Addressing Mobility Challenges for an Aging Population
Lee created the Shift for the capstone project in his industrial design degree at Carleton. He was asked to develop a design under the theme 'mobility and an aging population.'  After doing some research, Lee discovered that using a mouse is a major challenge for people with Parkinson's and Essential Tremors, diseases that affect many adults and seniors. He decided to speak directly to people who are living with the disorders.
"Being able to chat with people and actually hear their lived experiences was extremely impactful," Lee says. "That's what led into this whole project of trying to help them through an empathetic design."
After meeting with more than 15 people, Lee defined the problem he wanted to address – next up was design. Firstly, he needed to design a mouse that could adapt to involuntary hand movements and allow for a seamless user experience, and secondly, he wanted to create something sleek.
"Pointing devices recommended to patients with hand tremors are usually unsightly," Lee explains. "They tend to have a medical and rudimentary design that's often stigmatized. I wanted to design something that people wouldn't be embarrassed to use."
Lee modelled the Shift after existing home and office products from laptops to items such as ceramic bowls. For the movement mechanism, his inspiration came from the thumb joystick of portable video game consoles. He studied the joystick and adapted it to his project, albeit, with a larger design.
To perfect his design, Lee tested a prototype on his classmates by having them use it while attached to a stimulator that imitated the feeling of hand tremors. Through their feedback and regular touch-base calls with people who experience hand tremors, he was able to create a prototype that has proved to be both user-friendly and pleasing to the eye.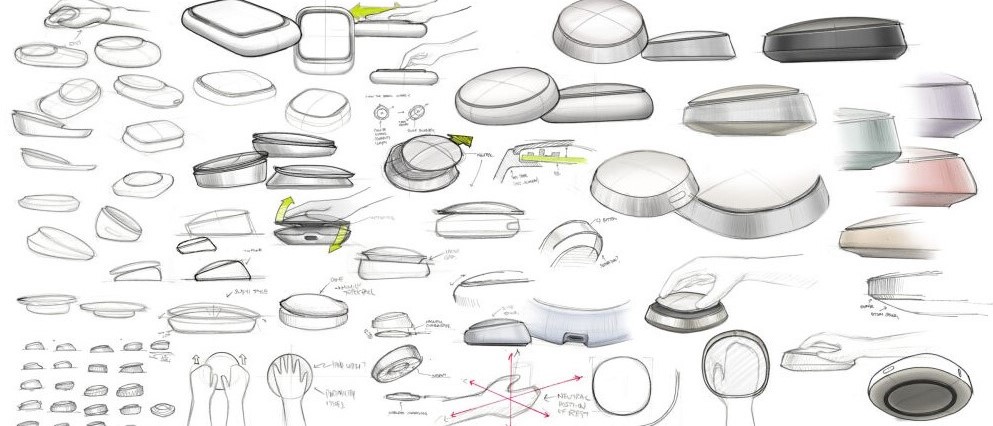 Technologically Advanced Design
The Shift's body, made from a zinc-aluminum alloy, provides added weight to the device to prevent it from sliding. Its main feature is a shifting dome – which can be manually shifted in any direction to move the cursor across the screen. Users can also move their cursor by using the dome's trackpad.
The pad allows users to control the cursor using several fingers at once, as opposed to just one. This helps with keeping hands stable. The trackpad is pressure sensitive for clicking and is designed to track large coarse movements while preventing unintentional clicks. Lastly, it also contains programmable buttons that can be used as voice-to-text for people with limited keyboard abilities, or as back and forth buttons.
"In addition to making sure the device was accessible, I wanted to make sure the Shift was up to par with most modern technologies," Lee explains.
As such, Lee included wireless charging as part of the design. This eliminates the need for users to fumble with wires, making it that much more accessible for people with hand tremors. Going above and beyond what was required of him, Lee also created a concept for an app to go along with the Shift.
"The app helps adapt the device to that user's specific tremor, and also trains the user on how to work it," says Lee.
Lee applied to IDEA and the Core77 Awards last year and was notified earlier this year that he had won a Gold IDEA and a Notable Mention in the Core77 Awards for his design of the Shift.
"The Industrial Design program at Carleton really pushed me to figure out what interested me, and gave me free will to explore," Lee says.
"I am thankful for the professors and internship opportunities that taught me."
---
About the International Design Excellence Awards
The International Design Excellence Awards (IDEA) is one of the longest running and most prestigious design awards in existence and is organized annually by the Industrial Designers Society of America (IDSA). Each year, thousands of entries are submitted by designers across the globe in hopes of securing a highly prized IDEA recognition. The competition is open to professional designers (corporate in-house teams, brands, studios, independent consultants, and entrepreneurs) and students.
About the Core77 Design Awards
Recognizing excellence in all areas of design enterprise, the Core77 Design Awards annually celebrates the richness of the design profession as well as the insight and perseverance of its practitioners. Now in its eleventh year, the Awards program remains dedicated to excellence and inclusivity, offering both students and professionals the opportunity to promote their best work on a global scale across 23 distinct design disciplines.

Friday, September 22, 2023 in Awards
Share: Twitter, Facebook