As a child, PhD candidate Vivian Nguyen wasn't particularly interested in fish. In fact, she was much more intrigued by birds.
"I owned one of those Audubon bird guidebooks and bird callers," says Nguyen. "I was really into understanding animal behavior and used to draw comic strips of various animal behaviours that I saw outside in nature."
But when she came to Carleton to pursue an undergraduate degree in Environmental Science (with minors in Business and Biology), she got hooked on fish.
Her interest was quickly piqued when she met Biology Prof. Steven Cooke. "He does a lot of applied research which can have an immediate impact on policies or practices, and that appealed to me," shares Nguyen.
So she stayed at Carleton to do her Master's and now her PhD degree in Biology.
Being immersed in Dr. Cooke's Fish Ecology and Conservation Physiology Lab was ideal for the PhD student. She was still able to help out with other students' biology projects and do field work, as well as get hands-on experience with fish, while treading her social science thesis.
"Steven had a project that allowed me to do a bit of biology, working with fish in the field, and also a little bit of human dimensions that looked at Pacific salmon and salmon users in the Fraser River in B.C."
"Dr. Cooke allowed me to collaborate with so many different people, which really enhanced my experience at Carleton."  For example, she was able to go to Brazil and conduct work on catfish in the Amazon but still work on her thesis that was in a completely different discipline – the social sciences.
Today, as a biologist, she uses social science methods to understand how to better mobilize new knowledge (or to facilitate the application of new knowledge) associated with electronic tagging technology in fisheries management.
Explains Nguyen: "I am looking into biotelemetry as a tool to study fish and better manage fisheries. Biotelemetry is the tagging and tracking of animals and can provide us with new information on fish movement and their interactions with the environment. It allows us to study what we normally cannot see under water. As such, it has provided tools that study animal behaviour over great distances in terrestrial and aquatic environments that were previously not feasible."
Using a survey, Nguyen found that less than 10% of fish telemetry researchers spend time doing outreach or engaging with stakeholders. "My research shows that telemetry researchers who actively engage with the public and build relationships with those who use science are more successful in integrating their research into action….this can have a greater impact on society."
Nyugen says that her research can assist conservation scientists in crafting more useable knowledge that aligns with practitioners' needs and also assist in applying the most up-to-date knowledge for sustainable management of fisheries resources.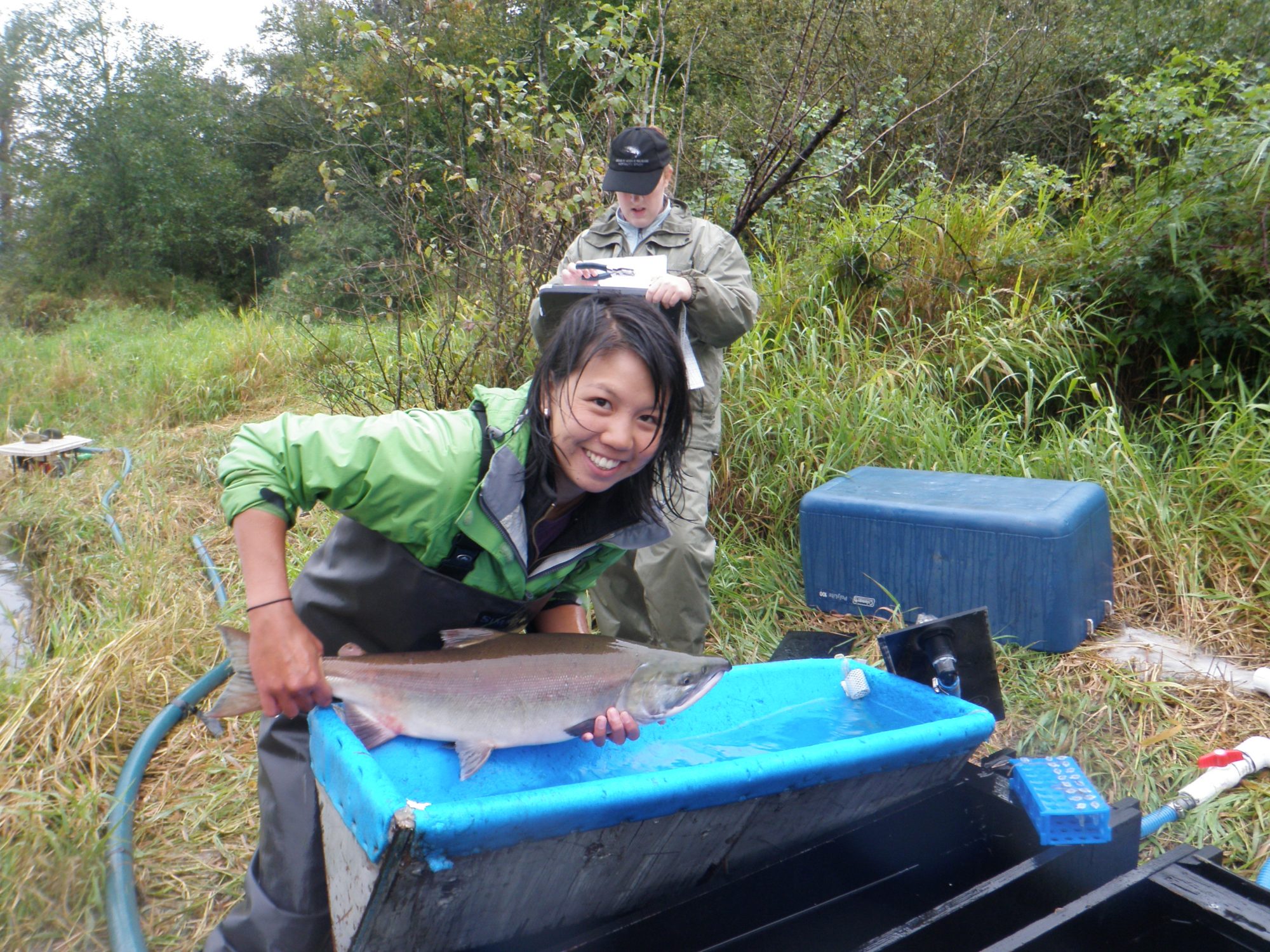 Recently, Nguyen was awarded the Frances Allen Scholarship which is given to a female graduate student "conducting aquatic research, with emphasis placed on research promise, scientific merit, and academic achievement."
Nguyen has also been awarded the Peter A. Larkin Award in Fisheries Excellence, the Wyndham Scholarship for Excellence in Environmental Biology and the Mitacs science-policy fellowship for 2017-2018.
Besides her academic awards, she was presented with the Ottawa Sports Award for Australian Football in 2017 and was privileged to represent Canada in Melbourne, Australia at the International Cup 2017.