The lobby of the Nesbitt Building is about to get totally squashed. Carleton University's greenest thumbs have been busy all summer watering, feeding and nurturing a mammoth pumpkin, partly as a botany experiment but also as a departmental fundraiser.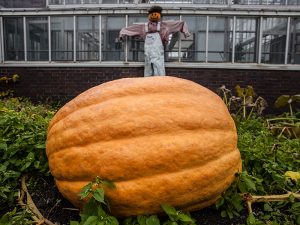 From now until noon on Thursday—Halloween—you can view the giant squash at Nesbitt and try to guess its weight for a small fee. The participant who guesses the closest weight gets half of the proceeds and the other half goes to the Laura Thomas Fund which helps biology students pay for summer research internships. Carleton community members may submit their guesses to room 206 Nesbitt Building by noon on Oct. 31. Tickets are $2 for one guess, and $5 for 3 guesses. [Click 'Read More' for full story and photos]
Growing a giant pumpkin is no small feat.  The Department of Biology's greenhouse manager, Ed Bruggink, ordered the seeds from The Dill Farm in Nova Scotia, home of "Dill's Atlantic Giant," an award-winning variety of jumbo pumpkins. He says he bought two seeds—one from from a 1,058-pound pumpkin (480 kg) and one from a 1,036.5-pounder (470 kg)—and crossed them once they started producing flowers.
In the month of August, the pumpkin was gaining up to 40 lbs (18 kg) each day, Bruggink said. When a pumpkin grows that fast, the skin can dry out and split under the sun's glare so Bruggink covered it in landscaping fabric to keep the orange titan intact.
He offered a sneak peek of the oversized vegetable several weeks ago in a garden outside of Nesbitt where staff, faculty and students grow plants for research. Connected to a thick, leafy green vine, it looked like a misplaced beach ball.
On Monday, Oct. 28, five people—students, staff and faculty—finally moved it from the garden to the lobby after weighing it on an granary scale. The official weight will remain a secret until 1 p.m. on Oct. 31 when the winner is announced.
The Laura Thomas Summer Research Internship in Biology was created to honour the department's senior administrator who passed away in May 2019. You can read more about Laura Thomas and the fund here: https://futurefunder.carleton.ca/giving-fund/laura-thomas/.
Story by Lisa Gregoire/Photos by Fangliang Xu: