Monday, October 3, 2022 | 12:30 pm – 1:30 pm
Gerontological Social Workers Speak Out! Connecting Racialization, Migration, and Aging
Registration is required for this Webinar: Please follow this link to register
Friday, September 30, 2022 | 8:30 am – 10:30 am
Unveiling Ceremony: The Journey of the Baby Vamp: Honouring the Lives of the Missing Children from Residential Schools
In 2021 the recovery of 215 unmarked graves at Kamloops Indian Residential School in British Columbia, followed by hundreds of others, was a turning point in Canadian history. To commemorate and honour each First Nation, Métis, and Inuit child who never returned home from Residential Schools, Social Work PhD student Deborah Young launched a communal beading project at Carleton, inviting community, faculty, staff and students to join together to create beaded baby vamps for eventual display in the School of Social Work.
This unveiling features an artwork of 356 vamps created to honour the children and families who continue to live and feel the impacts of the Residential School System.
Deborah is a Cree from Manitoba and a visitor on Algonquin unceded Traditional Territory. Her mother was taken from the Peguis First Nation when she was 9 years old and placed in the Brandon Residential School. Her father was taken from the Opaskwayak Cree Nation when he was only 5 and placed at residential school in Saskatchewan. They later met at Dauphin Indian Residential School in Manitoba. Deborah is a PhD candidate and lecturer in the School of Social Work.
Keynote Speaker: Kimberley Murray, Independent Special Interlocutor for Missing Children and Unmarked Graves and Burial Sites associated with Indian Residential Schools in Canada
Topic: Honouring the Children: Unmarked Graves at Residential Schools – What Does this Mean for Reconciliation in Canada? Do Universities Have a Role in Advancing Reconciliation in the Academy and the Classroom?
Registration is required; please follow this link to register today.
Tuesday, September 27, 2022 | Virtual Event, 6-8pm (EST)
NEW – ABSW & CASW Present African Canadians & Reparations in Social Work
Music, Spoken Word, Panel Presentation and Door Prizes.
Register here now: http://bit.ly/ABSWReparations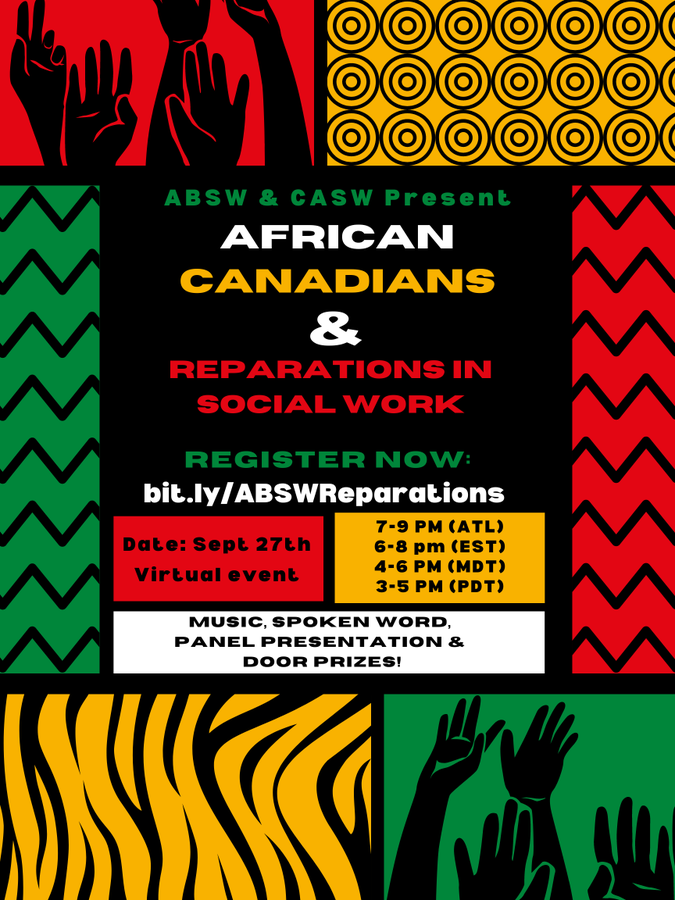 Virtual Training – Eating Disorder Sensitive for Social Workers and Psychotherapists
Virtual training opportunity to help practicing professionals and students build their confidence and resources when working with clients who are experiencing disordered eating. Offered by Body Brave, a Canadian non-profit that provides treatment and support for people with eating disorders and struggling with disordered eating. Accredited by the Canadian Counselling and Psychotherapy Association. https://bodypeace.learnworlds.com/course/eds-for-social-workers